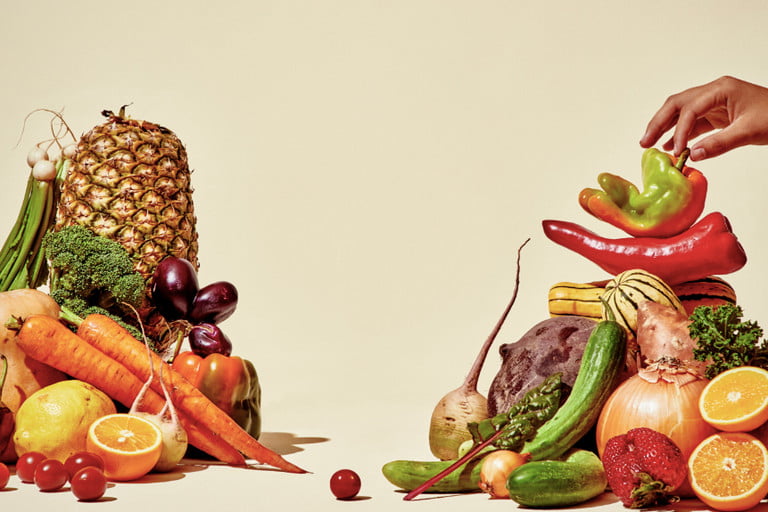 The last food-tech product cycle focused on plant-based meat substitutes. And now that its two largest players are mature— Beyond Meat is a $8B public company and Impossible Foods is a household name— investors have started financing the next generation of what we'll eat.
Ugly gourds
Most shoppers overlook deformed fruits and vegetables because they think something is wrong with them. The entire food supply chain knows this, so farms actually throw out ugly produce before it ever makes it to grocery shelves. Misfits Market capitalizes on this, and distributes this produce directly to consumers at a discount.
The model is working: Misfits just raised an $85M Series B.
Fish, without the feelings
Finless Foods is growing bluefin tuna in outer space. While it may seem far-fetched, the company recently sent bluefin cells to the International Space Station for astronauts to conduct experiments on food cultivation. Sending items into space is expensive, and if astronauts can easily harvest their own food from a bundle of lab-grown fish cells, then future colonization on Mars may become more of a reality.
However, Finless aims to distribute most of its product here on Earth. Half of the global population relies on seafood as their primary source of protein, something that our overfished oceans will be unable to support in the future.
Designer chickens
Most of the chickens sold today are bred for genetic traits that make them grow as fast as possible. This results in an uncomfortable compromise— the chickens we typically eat are plump and meaty, but they've gotten that way by gaining weight faster than their organ and skeletal systems can support.
Although most humans seem content to spend their lives sitting and eating, chickens may find this objectionable. Enter Cooks Venture. The ag-tech startup aims to "rebuild the chicken," humanely breeding for traits that allow a chicken to stay healthy until they are killed and eaten.
The chickens were not available for comment.
Hot startups hiring now 🔥